New World (2CD MediaBook + FREE Digital Download)
Regular price
$34.99
Sale price
$24.50
Unit price
per
Sale
Sold out
This Deluxe Mediabook Doubel-CD Edition contains an extended 20-page booklet with separate illustrations for every song, plus a bonus CD with symphonic versions of all songs.
IMPERIAL AGE – NEW WORLD
One of the most successful metal bands of Russian origin is back despite all odds!
4 years after the massively successful "Legacy of Atlantis" which sold thousands of copies, gained millions of streams and YouTube views and propelled them to international fame, the multinational symphonic / power metal sextet is back with their new magnum opus – "New World".
This album turned out to be magical in every sense of the word: during the crowdfunding which raised 188% of the initially required amount, the musicians were hit by a tornado never seen before in those parts which felled one third of the forest they were camping and writing songs in and completely destroying their camp - leaving them extremely lucky with their bodies and all equipment miraculously intact. The choir preparations were so intense that in the middle of the recording the head and conductor of the choir Taras Yasenkov had to be taken by ambulance to a mental hospital with a nervous breakdown (he has since fully recovered). When the album was almost done, the entire band lay down with covid, and if that was not enough - a month after that Russia attacked Ukraine an sent all plans to hell – forcing masterminds Alexander "Aor" Osipov and Jane Odintsova to hastily leave the country after the band had published an anti-war manifesto - and thus disrupting the entire album production and release process…
The lyrics turned out to be scarily prophetic: being about the strive for Freedom and Liberty, about the horrors of War, about leaving one's home without a hope to return and voyaging through rough seas to distant shores – they all had been written many months BEFORE all these topics became a grim everyday reality for the band.
As with most great things that pack a huge amount of super compressed energy, every step of this album's production was accomplished through a great effort from all participants: composing the songs over many hours without food and sleep, long nights at the studio until sunrise, recording live orchestra instruments and choirs, uncountable rehearsals, hours and days of painting artworks and many, many other things…
…but it sounds and feels exactly the opposite: upbeat, uplifting and empowering.
It seemed that Imperial Age were finished, especially when Max Talion (drums) and Paul Maryashin (guitar) quit the band. But against all odds the band regrouped, re-settled and survived - even reaching new highs in the process: not only they recorded what was missing, hired new musicians (Manuele di Ascenzo from Italy on drums and Kublai Kapsalis from Turkey on guitars), moved their entire Webshop to Italy, released 3 singles, 2 music videos, landed a headliner European tour for September 2022 – but also donated part of the proceedings to Ukrainian families in need, while being immigrants themselves. All of this – because of and with great support from their immense worldwide army of ultra-loyal fans who continue to support Imperial Age with thousands of album purchases, millions of streams and hundreds of donations.
The result – albeit delayed by 3 months – is brimming with Imperial Age's trademark sound of empowering, uplifting, visionary metal with an orchestra, choir and 3 lead singers, and yet the band have recorded their most upbeat, heavy and adventurous album to date!
Every single song of this album is a hit, and there are simply no "b sides" or weak tracks. "Legend of the Free" is one of the fastest and upbeat power/folk metal hits in the band's collection with strong lyrics about the strive for Freedom, whereas the philosophical "The Way is the Aim" is a dance song about finding one's own Path featuring Jane Odintsova turning from operatic to rock vocals. The killer, lyrically grim anti-war anthem "The Wheel" is a must have for all future live sets with its fast beat, catchy chorus and soaring high vocals by Aor while "Shackles Of Gold" instantly creates the image of Pirates of the Caribbean wreaking havoc on Tortuga in the name of Liberty.

One might think that 8 tracks is not much – but not in this case. The crown jewel of this album is the epic, dark, immensely powerful and colossal metal symphony "Call of the Towers", which, despite its whopping 18 minutes 12 seconds playtime excels at holding the listener's attention, constantly changing from a Hollywood-style explosive wall of sound pushing every instrument and singer to their limits, to acoustic tavern ballads, Bach-style organ solos, Vivaldi-style baroque passages and even 3 minutes of pure sympho black metal with atonal chords and a deeply dark atmosphere interchanging male, female and choral vocals all the way.
All songs feature the 3 lead singers Aor, Jane Odintsova and Anna Kiara - plus a full academic choir and live orchestral instruments.
"New World" overwhelms the listener with sophisticated and precise songwriting, highest level of musicianship, huge variety of vocals and instruments – all on top of the heaviest metal sound the band has delivered so far – once more proving why Imperial Age are so successful despite so many circumstances being against them and even without a record label!!

Tracklist:
CD1

1. Windborn 03:45
2. Legend of the Free 04:13
3. The Way is the Aim 04:02
4. To The Edge of the Known 03:58
5. The Wheel 03:40
6. Shackles of Gold 04:05
7. Distant Shores 04:51
8. Call of the Towers 18:12
Total length: 46 minutes 49 seconds
CD2
1. Windborn (symphonic) 03:45
2. Legend of the Free (symphonic) 04:13
3. The Way is the Aim (symphonic) 04:02
4. To The Edge of the Known (symphonic) 03:58
5. The Wheel (symphonic) 03:40
6. Shackles of Gold (symphonic) 04:05
7. Distant Shores (symphonic) 04:51
8. Call of the Tower (symphonic) 18:12

Total length: 46 minutes 49 seconds
Share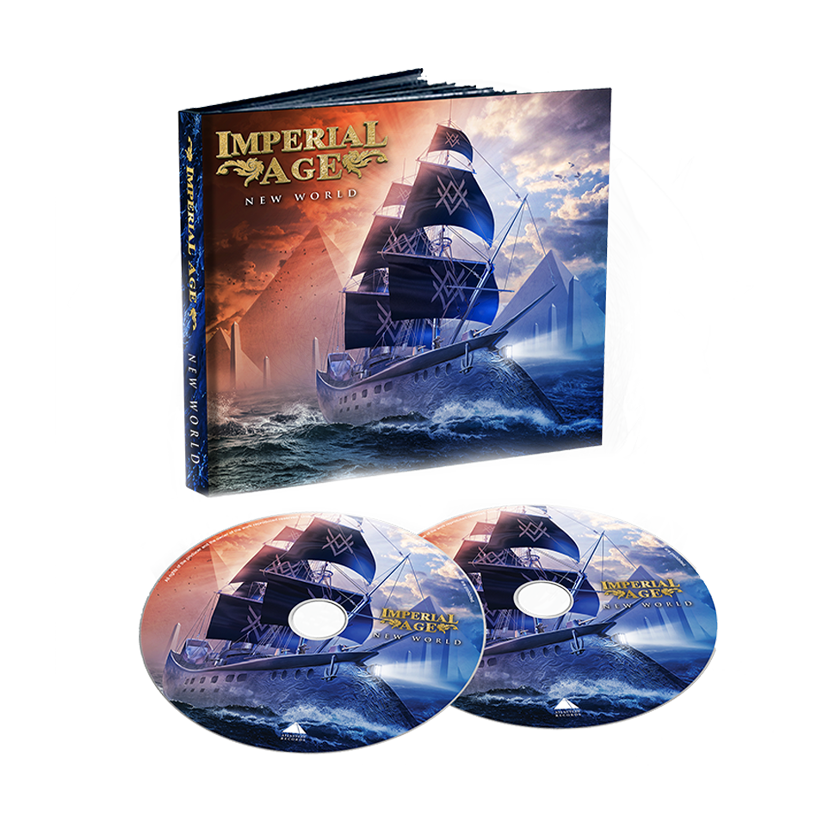 We Are Based in EU

All our items are now produced and shipped from Italy - Worldwide.

Fast Delivery

Delivery to EU / EEA / UK 5-8 days
Delivery to America 1-2 weeks
Delivery to Oceania 1-2 weeks

ALL ITEMS ARE SHIPPED VIA POST - WITH TRACKING.